This is an archived article and the information in the article may be outdated. Please look at the time stamp on the story to see when it was last updated.
SWAT officials responded to Silver Lake after a woman had a mental delusion that someone threatened her with a gun, police said Sunday.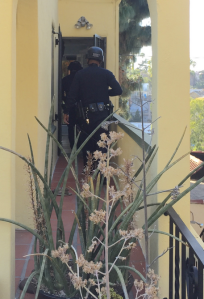 Police and SWAT officials responded to a report of an alleged assault near Hamilton Way and Murray Drive (map) Saturday afternoon and believed a barricaded person was inside a home, officials said.
Investigators discovered the person who allegedly threatened the woman with a gun was at a picnic during the alleged incident, and no crime had been committed, said Los Angeles Police Department Lt. Richard Parks with Northeast Community Police Station.
Police attempted to get the woman aid through a mental evaluation unit, but she did not meet the criteria to be placed on a hold, Parks said.
"The mental issues she has, she'll have to work out on her own," Parks said.