This is an archived article and the information in the article may be outdated. Please look at the time stamp on the story to see when it was last updated.
The Compton branch of the NAACP on Wednesday called for the Sheriff's Department to fast-track an investigation into a violent arrest that left a mentally ill 29-year-old man with what the organization described as "massive permanent injures."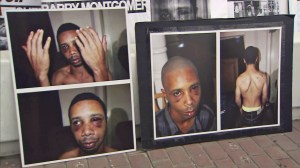 Barry Montgomery Jr., described by his family as a harmless paranoid schizophrenic, was handcuffed and brutally beaten by a group of 20 deputies while he was playing basketball at a park in Willowbrook in July, family members said at a Wednesday news conference.
Montgomery sustained seven broken ribs, facial fractures, a broken orbital bone and multiple injuries from use of a baton and Taser, according to the NAACP's Compton branch, which called the news conference alongside the family and the family's attorney, Martin Kaufman.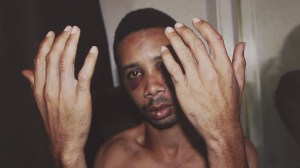 Montgomery's mother described "puddles of blood" left by the July 14 arrest at Enterprise Park, saying her son was still in pain. He played basketball at the park every night for more than 10 years, family members said.
"They beat him for no reason because he didn't respond? He does not respond. He does not talk," Ty Ellis, Montgomery's sister said. "It's not right. It's injustice. … We need them to investigate these officers."
Photos showing Montgomery with blackened, bloodied eyes were displayed at the event, held at Compton City Hall. The Compton Sheriff's Station was the focus of the news conference, with organizers saying Montgomery's violent arrest was part of a pattern of violence that also implicated officers in area schools.
"These kind of injustices continue to happen. It's not just one instance," said Compton NAACP President Paulette Gipson. "It's like it's open season on our young men. And it has to stop."
She called for a federal investigation into the alleged abuse.
Reconstructive surgery will be needed to fix Montgomery's broken eye socket, said Kaufman, who described him as a well-liked neighborhood fixture.
"He's docile. He's no threat to anyone," Kaufman said.
Montgomery was listed in county inmate records as being 5 feet 6 inches tall and weighing 120 pounds.
He takes medication and has been clinically diagnosed with Tourette syndrome and schizophrenia, father Barry Montgomery Sr. said.
A spokeswoman for the Los Angeles County Sheriff's Department on Wednesday said Inspector General Max Huntsman was aware of the incident and was in contact with Montgomery's family.
"The Sheriff's Department takes all allegations seriously and will appropriately investigate them," spokeswoman Nicole Nishida said in an email.
The department's Internal Affairs Bureau was conducting an ongoing investigation into the use of force, she confirmed.
Nishida called that claim that 20 deputies were involved "completely erroneous." Three deputies have been reassigned to office duty pending the investigation, she said.
The confrontation began when deputies smelled what they thought was marijuana near Montgomery, who was sitting on a bench in the park about 9:30 p.m., Nishida said.
"They contacted … Montgomery, to conduct an investigation pursuant to the odor of marijuana," a Sheriff's Department news release stated four days after the arrest.
Montgomery became "verbally confrontational" and tried to punch one of the deputies, Nishida said, prompting a struggle.
"During the course of the struggle, the suspect sustained several injuries and was taken to a local hospital for treatment and released for booking," the release stated.
One deputy was injured, according to the Sheriff's Department. Kaufman disputed that Wednesday.
Montgomery was booked on suspicion of felony resisting arrest and misdemeanor possession of marijuana, according to the Sheriff's Department. He was released three days after being taken into custody, county inmate records show.
He appeared in court Aug. 7 on a charge of felony resist of an executive officer, according to the Los Angeles County District Attorney's Office. He was due back at Compton courthouse for arraignment Sept. 8, a DA's office spokesman said.
No marijuana possession charge was filed.
Montgomery allegedly attempted "by means of threats and violence" to deter Alcala Diaz from his duty and resisted Diaz by "use of force and violence," according to a criminal complaint against Montgomery.
Kaufman called for prosecutors to drop the charge.