This is an archived article and the information in the article may be outdated. Please look at the time stamp on the story to see when it was last updated.
Federal environmental investigators arrived Monday night at the scene of a hazardous mercury spill in a residential area of Simi Valley that prompted an emergency response, evacuations and a warning to avoid the area, authorities said.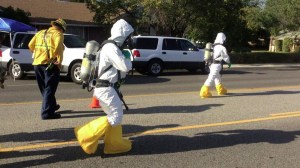 Ten people, including three firefighters, were exposed to the toxic heavy metal but had no symptoms, Ventura County Fire Department Capt. Mike Lindbery said.
The "small mercury leak" occurred in the 4100 block of Cochran Street (map), according to the Simi Valley Police Department.
The material was in a driveway that serves six homes and was spread over an area of about 100 square feet, authorities said.
Firefighters were initially called to a report of a mercury spill just before noon, Lindbery said. When county Environmental Health Division investigators arrived to aid in the response, they discovered a much larger spill that occurred about a month earlier, Lindbery said.
A Fire Department division chief later said the spill was thought to be 3 to 4 pounds.
After several hours of work to confirm the nature of the substance, Lindbery said the material was indeed mercury.
The resident who called authorities said he believed the mercury was somehow leaked from electrical equipment that was at his home for a catered party.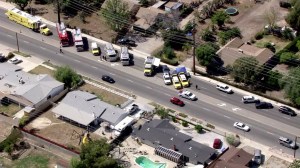 "I got extremely, violently sick. For three days, I was throwing up profusely," Michael Propse said.
A vet who treated one of his two dogs said the animal's severe condition matched symptoms caused by heavy metal or mercury poisoning, Propse said.
The dog was dying, Propse said.
Six houses were evacuated, while two were sheltering in place, Lindbery said. The county's branch of the Red Cross was on scene in case prolonged evacuations were needed, he said.
About 3 to 4 pounds of the liquid material had been spread out along the ground on the driveway, said Ted Smith, a division chief with the Fire Department. Those homes were evacuated, except for one occupied by an elderly woman who was sheltering in place, Smith said.
Neutralizing and cleaning up the material would be straightforward, but determining where the mercury had spread could take time, Lindbery said.
U.S. Environmental Protection Agency staff arrived on scene Monday evening. Officials from California EPA and the state Department of Toxic Substances Control were also en route, police said.
Police were in the beginning stages of re-opening Cochran Street between Tapo Canyon Road and Tapo Street.
Eastbound traffic will be opened for residents, however the public was warned to avoid the area until further notice. Cochran runs parallel to and south of the 118 Freeway.
An elementary school and shopping center are within several blocks of the spill, which is about 30 miles northwest of downtown Los Angeles.
The school was expected to be open Tuesday, according to police.
Mercury, also known as quicksilver, is a naturally occurring element that is used in scientific equipment such as thermometers. A very dense liquid, metallic mercury vaporizes easily at room temperature, releasing toxic vapors.
Exposure to the element can affect the human nervous system and harm the brain, heart, kidneys, lungs, and immune system, the federal EPA website states. Most exposure to mercury — in the form of methylmercury — occurs through consumption of fish and shellfish from polluted ocean waters.
The EPA advises the public to contact public health officials as soon as possible for mercury spills greater than the amount from a broken thermometer but less than 2 tablespoons. Spills of 1 pound or more require a call to the National Response Center, the federal government's hazardous spill center, which is staffed around the clock by the U.S. Coast Guard.
KTLA's Kennedy Ryan and Scott Williams contributed to this article.
@VCFD @VenturaCityFD @SimiValleyPD @OxnardFF1684 on scene @ #SimiValley #HazMat. pic.twitter.com/dax0d78npf

— VCFD PIO (@VCFD_PIO) May 12, 2015
@VCFD @VenturaCityFD @SimiValleyPD @OxnardFF1684 on scene @ #SimiValley #HazMat. pic.twitter.com/dax0d78npf

— VCFD PIO (@VCFD_PIO) May 12, 2015
More videos: