This is an archived article and the information in the article may be outdated. Please look at the time stamp on the story to see when it was last updated.
SANTA MONICA, Calif. — Officials say a foul stench in Santa Monica over was probably caused by a large release of methane in the ocean.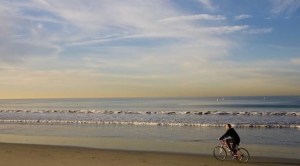 Fire departments in Los Angeles and Santa Monica began receiving calls shortly after dawn on Sunday from Sunset Blvd. south to Venice Beach.
A Santa Monica fire hazmat team took readings off the coast near San Vicente Blvd., and found methane in the water.
The amounts were too small to be hazardous to health.
As of midday, readings indicated that the methane had dissipated.
Authorities said that recent changes in water temperature may have caused plankton and algae beds to bloom, releasing methane just below the surface.
The gas also might have been produced by a geologic event, such as a shift in tectonic plates.
Such occurrences are not uncommon in the bay, usually happening about twice a season.
Last September, a rotten egg smell that fouled the air in the L.A. basin was traced to decaying matter in the Salton Sea, over 150 miles away.
-KTLA/Los Angeles Times