This is an archived article and the information in the article may be outdated. Please look at the time stamp on the story to see when it was last updated.
Five people were injured Wednesday morning when a dump truck collided with a Metro bus in Culver City.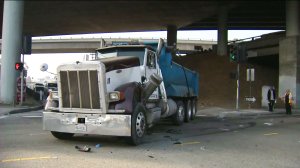 The crash occurred about 5:30 a.m. when the vehicles were exiting the 405 Freeway at Jefferson Boulevard, said Sgt. Gary Irwin with the Culver City Police Department.
Five people were injured in the crash, but it was unclear what their conditions were or if anyone was hospitalized, Irwin said.
There was no word on what may have caused the crash.
KTLA's Stephen Acosta contributed to this report.