This is an archived article and the information in the article may be outdated. Please look at the time stamp on the story to see when it was last updated.
Metro Los Angeles is offering free rides on all busses and rail lines on the nights of Christmas Eve and New Year's Eve, officials said.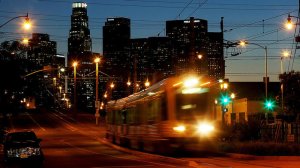 No fare will be charged on Christmas Eve from 9 p.m to 2 a.m. and from 9 p.m. to 2 a.m. on New Year's Eve.
The gates at all Metro rail stations will be unlatched during this time, but riders must use their TAP cards after after 2 a.m.
In addition, 24-hour rail service is available on New Year's Eve. Enhanced service will be available for the Rams game against the San Francisco 49ers that day.
Both buses and rail systems will run on a Sunday/holiday schedule on Christmas Day and News Year's Day, officials explained.
"Wishing you all safe and happy travels as we close in on 2018," officials wrote.
Ride Metro for free on Christmas Eve and New Year's Eve from 9 p.m. to 2 a.m. https://t.co/CX5PG2h4iM pic.twitter.com/VUuAuB8H8Z

— LA Metro (@metrolosangeles) December 22, 2017