This is an archived article and the information in the article may be outdated. Please look at the time stamp on the story to see when it was last updated.
Security has been ramped up at the Los Angeles International Airport, Amtrak locations and L.A.-area Metro stations following a series of deadly explosions in Brussels on Tuesday, when officials asked the public to be alert.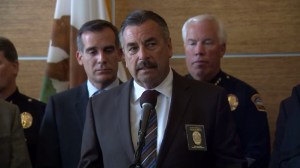 At noon, Los Angeles Mayor Eric Garcetti spoke at the city's emergency operations center alongside LAPD Chief Charlie Beck and David Bowdich, head of the FBI's Los Angeles office.
"Public safety is my responsibility in Los Angeles, but it's everybody's business. The thing that keeps L.A. safe — the thing that keeps America safe — is the public," Beck said. "If you see something, say something."
Beck also said community partnerships help keep the region safe, saying that "inclusion" is "what makes America."
"That sense of inclusion is what keeps people from being radicalized. It's what keeps people from going to the dark side," Beck said.
Meanwhile, LAX was on "heightened alert," and increased K-9 patrols and uniformed personnel were expected throughout the airport.
No direct threats had been made, and no flight delays of cancelations had occurred, an airport police official said Tuesday morning.
Los Angeles Airport Police Department spokeswoman Alicia Hernandez issued a statement:
The Los Angeles Airport Police is following the recent events occurred in Brussels, Belgium. At this time there are no specific threats to LAX. We take attacks on aviation very seriously and make constant adjustments to our deployment strategies. As of now, there has been no impact to LAX operations; however, as a precaution, we have increased the visibility of Airport Police Officers at LAX. We will continue to monitor the situation in Belgium, and make adjustments to security as necessary.
Metro commuters were expected to see more security and law enforcement officials than usual as the transit department was also on "heightened alert," sheriff's Transit Services Lt. Wargo said.
The increased security presence was planned for Union Station, the Willowbrook/Rosa Parks Station and Seventh Street/Metro Center Station.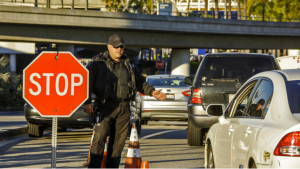 Metro and Los Angeles County Sheriff's Department's Transit Policing Division were aware of the situation in Brussels and continued to monitor the attacks, a news release stated.
Passengers were advised, "if you see something, say something," and asked to call 888-950-723) or download The Transit Watch App to make reports.
Amtrak partnered with local, state and federal law enforcement officials to gather and share intelligence, a news release stated.
Extra officers were deployed, and employees were reminded to look for and report suspicious activity and unattended items.
Guidance regarding facility inspections and active shooter incidents were also reissued to Amtrak employees.
Commuters were again asked to report suspicious behavior and activity by calling by calling Amtrak police at 800-331-0008, or texting APD11 from a smartphone or 27311 from a standard cellphone.
Elsewhere in the United States, law enforcement officials in Washington and New York City ramped up efforts at subways and other transit locations.
The efforts came in the wake of a a series of explosions across Brussels that killed at least 26 people and wounded another 130.
"We were fearing terrorist attacks, and that has now happened," Belgian Prime Minister Charles Michel said.