This is an archived article and the information in the article may be outdated. Please look at the time stamp on the story to see when it was last updated.
Even as new rail lines have steadily opened across Los Angeles County, bringing better transit service to the San Gabriel Valley and the traffic-choked Westside, the Sepulveda Pass continues to be a headache.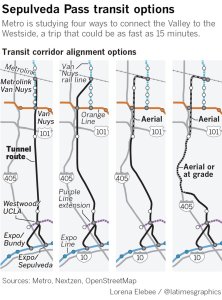 The congested 405 Freeway has no space or capacity for a reliable transit option, and the rugged hills are too steep to run a rail line over. Those conditions leave two complicated, costly options: tunnel through the mountains, or find a kind of transit that can get over the hills.
Plans made public Tuesday show that the Metropolitan Transportation Authority is studying a tunnel or tunnels through the Santa Monica Mountains, as well as a monorail system that would run above ground on some of the terrain. Both approaches would pose significant engineering challenges.
In a region where three in four commuters drive alone to work, the Sepulveda Pass line offers a key opportunity to shift more drivers onto transit. All four options that Metro is studying could whisk riders between the San Fernando Valley and the Westside in less than a half-hour, far faster than driving during rush hour.
Read the full story on LATimes.com.