This is an archived article and the information in the article may be outdated. Please look at the time stamp on the story to see when it was last updated.
Federal investigators continued their investigation Wednesday into a Metrolink derailment in Oxnard that occurred Tuesday morning when a five-car train struck a pickup truck, leaving dozens of people injured, four critically.
Meanwhile, the driver of the truck was in custody after being arrested on suspicion of leaving the scene of an injury-related crash, more commonly called hit-and-run with injuries, according to police.
His attorney said Wednesday that the incident was an "accident" and that the driver — 54-year-old Jose Alejandro Sanchez-Ramirez of Yuma, Arizona — had not fled the scene but had gone to find help.
A National Transportation Safety Board "go-team" arrived at the scene Tuesday evening. It was sending videos, along with recorded data from the train and pickup, to a lab in Washington, D.C., to try to answer many questions about the crash, board member Robert Sumwalt said at a news conference.
"Why was that truck there — that's a key question — and, once it was there, why did it not move?" Sumwalt said.
Investigators planned to interview train crew members and hoped to speak to Sanchez-Ramirez. The driver's truck was found about 80 feet west of the rail crossing, and investigators had not yet determined if it was indeed "stuck" there, as police and the driver's attorney have said, Sumwalt said.
NTSB was working to determine if the rail crossing was safely lighted, signaled and marked, and was also getting city data on road maintenance and usage. The agency also planned to get records from Harvest Management LLC, the Somerton, Arizona, company that employs the driver.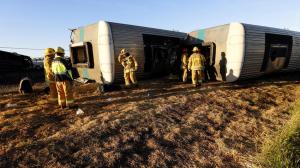 Sumwalt said he expected to be able to provide details Thursday from what was seen on forward-facing video from the train and from the event data recorder on board. The video, he said, could help determine whether the truck driver flashed his bright headlights at the oncoming train, as Sanchez-Ramirez's attorney asserted.
"Knowing we have good data on those recorders is key," Sumwalt said Wednesday afternoon. "We are very early in the investigation."
The train was traveling under the 79 mph speed limit, according to preliminary data, Sumwalt said.
The collision happened about 5:44 a.m. Tuesday near the intersection of East Fifth Street and South Rice Avenue (map), where a white 2005 Ford F-450 pickup had been driven onto the tracks and then abandoned. Emergency responders arrived to find the vehicle engulfed in flames and three Metrolink passenger cars turned onto their sides, according to the Oxnard Police Department.
Twenty-eight of the 50 people on the train were taken to hospitals, authorities said.
Ten of the injured were transported to Ventura County Medical Center. Four of those victims, including the train's engineer, were listed in critical condition, said Dr. Bryan Wong, the hospital's chief medical officer.
On Wednesday morning, the engineer suffered cardiac arrest and his heart stopped twice, Wong said. He was resuscitated thanks to "heroic measures," Wong said, asking for thoughts and prayers in support of the engineer and his family and caregivers.
An officer found the driver of the truck more than 1 1/2 miles south of the crash site, the Police Department said.
After Sanchez-Ramirez was determined to have been involved in the incident, he taken into custody and later arrested on suspicion of felony hit-and-run, police said. His bail was set at $150,000. He was scheduled to appear Ventura Superior Court on Thursday afternoon, according to online inmate records.
He has previously been cited for several driving violations in Arizona and was convicted in 1998 of DUI, the Los Angeles Times reported.
In Ventura County on Wednesday, bus service was being provided between train stations in Ventura and Moorpark. Metrolink trains were operating as normal between Moorpark and Union Station, the agency said.
Amtrak said it was providing limited service between Los Angeles and San Luis Obispo.
More video: