This is an archived article and the information in the article may be outdated. Please look at the time stamp on the story to see when it was last updated.
An engineer aboard the Metrolink train that derailed in Oxnard when it smashed into a truck that was left on the railroad tracks has died, police said Tuesday.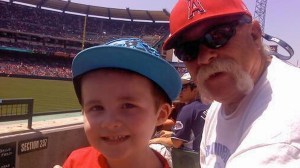 Glenn Steele, 62, was one of 28 people hospitalized following the crash at the intersection of East 5th Street and South Rice Avenue (map) in the early morning hours of Feb. 24.
Steele's heart stopped twice while being treated in a hospital last Wednesday, but was able to pull through both times.
He was later moved to Cedar Sinai Hospital in Los Angeles for specialized treatment.
The Oxnard Police Department confirmed Steele's death in a news release Tuesday.
Metrolink, while not identifying Steele by name, expressed condolences on the death of the longest-tenured engineer among Metrolink operators.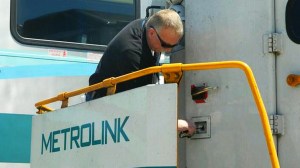 "The entire Metrolink family is deeply saddened by the loss of this dedicated and hardworking railroader," Sam Joumblat, Metrolink's interim chief executive officer stated in a news release. "Everyone associated with Metrolink extends our most heartfelt condolences to his family, friends and co-workers. Our thoughts and prayers are with them all."
The engineer had worked in the rail industry for more than 40 years, according to the news release.
Jose Alejandro Sanchez-Ramirez, a 54-year-old truck driver from Yuma, Arizona, was arrested by Oxnard police on suspicion of hit-and-run with injuries following the crash, which caused the commuter train to derail.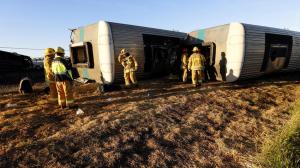 Sanchez-Ramirez said his truck got stuck on the tracks when he made a wrong turn near the site of the crash.
He tried to speed up and jerk the vehicle off the tracks, unsuccessfully, his attorney Ron Bamieh said.
Seeing the oncoming commuter train, Sanchez-Ramirez flashed his high beams to no avail. "He then was forced to flee to save his own life," Bamieh said.
Sanchez-Ramirez  was released from jail Thursday after no charges were filed against him by a 48-hour deadline.
Following his release, the district attorney's office said prosecutors will wait for the conclusion of an ongoing investigation before deciding whether to file charges.
Bamieh issued a statement following Steele's death.
"I called Alejandro this morning to tell him of the death of Mr. Steele.  I spoke to Alejandro through his son, who translated for me.  Alejandro became shaken and visibly emotional upon hearing the sad news. Mr. Sanchez-Ramirez immediately expressed his condolences for the family of Mr. Steele, and wanted to know how best to express his deep sadness to Mr. Steele's family.  Today I join Alejandro in expressing that our prayers and thoughts are with the family of Mr. Steele.  It is our hope that this will be the last loss of life the City of Oxnard will allow at this intersection.  It's unfortunate that it took this accident to bring attention to this dangerous condition that has existed for far too long."  
A GoFundMe page has been set up to help Steele's family.