This is an archived article and the information in the article may be outdated. Please look at the time stamp on the story to see when it was last updated.
U.S. Sen. Dianne Feinstein (D-Calif.) will be on hand Thursday for the debut of a sophisticated rail safety system for Metrolink, a technology she pushed for following the deadly Chatsworth crash in 2008.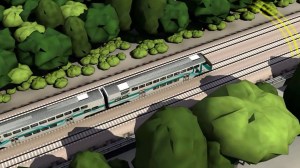 Feinstein, a sponsor of the Railway Safety Improvement Act, will be among local dignitaries, Metrolink board members and Federal Railroad Administration officials who have been invited to the unveiling of the commuter line's positive train control system.
Metrolink, which serves six Southern California counties and carries about 42,000 passengers a day, is the first commuter railroad in the nation to put the sophisticated collision avoidance system into operation.
Positive train control relies on global positioning satellites, digital radio communications and computers to monitor trains. In an emergency, it can automatically override the engineer and apply the brakes to avoid an accident.
Click here to read the full story from LATimes.com.