Metrolink service experienced extensive delays Friday morning after a fiery crash between a Los Angeles-bound train and an RV in Santa Fe Springs prompted officials to shut down the tracks between Buena Park and Norwalk.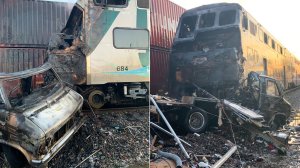 Authorities received a report of a crash near the intersection of Rosecrans and Marquardt avenues around 5:37 a.m., Whittier police Officer Hugo Figueroa said. Police arrived to find a Metrolink train that had struck a stalled RV on the tracks, igniting a fire that consumed the RV and burned the front portion of the train.
A freight train traveling parallel to the Metrolink train halted to a stop but was partially burned in the fire, Figueroa said.
Metrolink identified the passenger train involved as the Orange County 681 Line train traveling to L.A. Aerial video from Sky5 showed passengers exit the train as the fire burned. Four people who complained of pain were treated at the scene and released, Figueroa said.
The fire was mostly contained by 6:10 a.m.
It's unclear why the RV was on the tracks, but witnesses reported seeing four people fleeing from the vehicle, according to Whittier police.
Officers were working on speaking to the registered owner, who lives near Santa Fe Springs, Figueroa said.
The incident has shut down the tracks between the Buena Park and Norwalk/Santa Fe Springs stations, said Metrolink. L.A. County officials previously announced the tracks were expected to remain closed all day, but they later said one track was opened  just before 9 a.m.
Because of the closure, the 91PVL and 600 line trains were unable to get through the area, according to Metrolink.
OC Line 603 to Los Angeles has been canceled at Fullerton for the day, the agency tweeted around 7:30 a.m. Passengers can get around the shutdown via MTA or OCTA buses.
Other cancelations during the day included IEOC Line 811 to Laguna Niguel, RIV Line 406 to downtown Riverside, and SB lines 316, 320 and 328 to downtown San Bernardino.
Several lines experienced delays, the result of train congestion caused by the track shut down. Afternoon trains were also impacted due to the closure.
In addition, IEC Line 815 to Oceanside, OC lines 609 and 641 to Los Angeles, and OC Line 602 to Oceanside were all canceled mid-afternoon after a person was hit by by a train on the tracks, according to Metrolink.
That incident prompted the closure of tracks between San Clemente and Oceanside.
Because of the mass service disruption, officials have urged commuters to seek alternate transportation, adding that they could be reimbursed for costs.
Those with valid fares for the 681, 601, 603, 701 and 700 trains are being offered vouchers of up to $50 for use of alternate transit such as Uber, Lyft or a taxi.
The latest information on train cancelations and delays can be found on Metrolink's Twitter.
KTLA's Alexis Lewis contributed to this report.