This is an archived article and the information in the article may be outdated. Please look at the time stamp on the story to see when it was last updated.
A complicated subway project designed to seamlessly connect three rail lines in downtown Los Angeles will open a year later than expected, despite efforts to make up for time lost during construction, L.A. County Metropolitan Transportation Authority officials said Tuesday.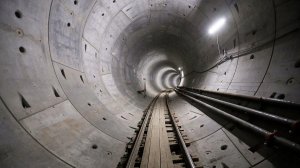 The new opening date for the Regional Connector is December 2021, six months after the deadline established by federal officials and a year after the agency's target date of December 2020. The schedule change will not jeopardize $830 million in federal funding for the project, Metro officials said.
"We still have four years to go," project manager Gary Baker said, adding that work should reach the halfway point early next year. "But I'm confident that we'll be able to successfully meet our schedule."
The delay follows months of setbacks beneath the streets of downtown Los Angeles, home to some of Southern California's oldest infrastructure. Aging water pipes and fragile utility lines required reinforcement before crews could safely dig beneath them, officials said.
Read the full story on LATimes.com.