This is an archived article and the information in the article may be outdated. Please look at the time stamp on the story to see when it was last updated.
The level of shaking in the massive earthquake that struck off southern Mexico was equal to that of the devastating 1994 Northridge quake, renowned Los Angeles-area seismologist Lucy Jones said Friday.
The magnitude-8.1 quake struck just before midnight Thursday off the coast of Chiapas, with shaking felt as far away as Mexico City.
As of Friday afternoon, the death toll stood at 58.
@USGS ShakeMap of Mexican M8.2 shows Intensity IX shaking – same as maximum in Northridge 1994 https://t.co/MDae02FYUR

— Dr. Lucy Jones (@DrLucyJones) September 8, 2017
The U.S. Geological Survey, where Jones was a seismologist for many years, shows in its ShakeMap "violent" or level IX shaking around the offshore epicenter. However, the USGS page on the Mexico quake indicates that no one was affected by that level of shaking; about 547,000 people were affected by the next level down, VIII or "severe."
The shaking values are on the Modified Mercalli Intensity Scale.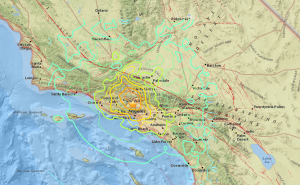 The magnitude of the Mexico quake is larger than any temblor the country has seen in a century, but the level of shaking experienced is actually less than other lower magnitude but more devastating quakes, Jones told KTLA earlier in the day Friday.
The Jan. 17, 1994, Northridge earthquake was a magnitude-6.7 temblor. It left 60 dead and more than 7,000 injured, and caused destruction around Southern California.
The Mexico quake does not change the chances of the "Big One" hitting California, Jones said.