This is an archived article and the information in the article may be outdated. Please look at the time stamp on the story to see when it was last updated.
The body of an Arcadia firefighter who has been missing for two weeks in a remote, rugged area of the Los Padres National Forest was found Friday morning less than a mile from where he was last seen, authorities said.
Mike Herdman, 36, disappeared June 13 when he and a firefighter colleague and friend chased after Herdman's runaway dog, Duke, in the mountain above Fillmore. The two men, who were on a four-day backpacking trip in the Sespe Wilderness, became separated. Herdman did not return to camp that night.
He was barefoot and wearing only shorts and a T-shirt. It took Herdman's friend Taylor Byars two days to walk out of the wilderness and alert authorities.
The discovery of Herdman's body in a "rugged cliff area" was announced at a Ventura County Sheriff's Office news conference about 4 p.m. Friday at Camarillo Airport.
They was no indication of foul play and it was not known if Herdman had fallen, Sheriff Geoff Dean said.
Herdman was found partially covered by brush below a cliff in a location 1,200 feet above and three-quarters of a mile away from the spot on Sespe Creek where he was last seen, Dean said.
"It was obviously a long hike up very, very difficult terrain," Dean said.
 Searchers had ruled out looking in that area on foot because it seemed unlikely Herdman would have ventured that far up in elevation, Dean said.
"What are the chances that someone at night in bare feet and shorts would scale a 1,200-foot mountain?" Dean said. "The likelihood just wasn't that high, so the search was focused in areas that there was a higher likelihood that he might be located."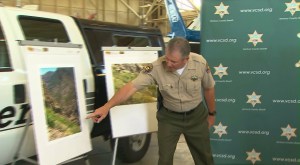 The body, spotted by a pilot who had just dropped off four ground searchers  Friday morning, was transported out after a challenging retrieval effort. Herdman was identified via dental records by a county medical examiner, Dean said.
Herdman's family was notified after the body was identified, Dean said.
The cause of his death was undetermined; the medical examiner planned to do an autopsy, said Dean, who would not comment specifically on the condition of Herdman's body.
"Sadly, nobody but Mike is ever going to know … why he would take off into this kind of terrain, in the dark, in bare feet," Dean said.
The search for Herdman began June 16 and involved multiple agencies, with up to 75 people searching every day during the peak effort, authorities said. Helicopters and drones were also used in the search.
At least four searchers were injured, including an assistant fire chief sent to intensive care with a rattlesnake bite.
Initially, rescuers found only Herdman's footprints and backpack.
On Sunday, Duke was found hungry and dehydrated at a parking lot at Dough Flat, where the firefighters' hike began, some 12 miles from their camp.
"That critical time, that time where we believe he is still alive, has gone by," sheriff's Capt. Don Aguilar  told the Pasadena Star-News on Monday. "It's tough to survive out there past a week. We've given a good push on this and covered a lot of area and haven't come up with much at all."
The search was scaled back in recent days, but a group from Herdman's Arcadia firefighters' union searched on foot in the mountains above Fillmore, the union stated on its Facebook page.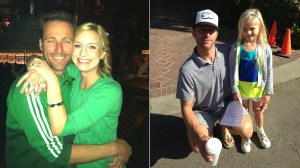 Four people were on the ground Thursday, Aguilar told the Pasadena Star-News, saying efforts would continue Friday.
Dean said at Friday's news conference that searchers had been in the area every day since the effort began.
A seven-year veteran of the Arcadia Fire Department, Herdman is survived by a wife and young daughter. He lived in Dana Point, according to the Sheriff's Office.
Friends said he was very physically fit and had extensive backcountry experience.