This is an archived article and the information in the article may be outdated. Please look at the time stamp on the story to see when it was last updated.
SAN DIEGO (KTLA) — A military court on Wednesday overturned the conviction of a Camp Pendleton Marine found guilty of murdering a civilian during the Iraq war, saying investigators violated his Fifth Amendment rights.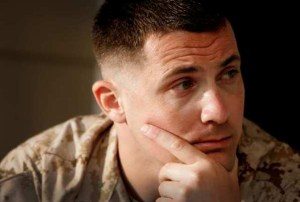 Sgt. Lawrence Hutchins III was originally sentenced to 15 years to life in the murder of retired policeman 52-year-old Hashim Awad in 2006.
Hutchins led a Marine squad that allegedly dragged Awad from his home in Hamdania and shot him, prosecutors said.
They then allegedly placed a shovel and AK-47 near his body to make it appear that he was an insurgent burying roadside bombs.
The United States Court of Appeals for the Armed Forces overturned his conviction, ruling that Hutchins was questioned by NCIS investigators after he asked for a lawyer.
The court ruled that once Hutchins requested an attorney he could not be interrogated without one present unless he initiated contact with investigators.
Several other Marines were convicted in the attack, but all served less than a year and a half in jail.
Hutchins has spent six years behind bars. He is currently being held in the brig at Miramar Marine Corps Air Station in San Diego.
It was not clear if prosecutors will re-try the case.
CNN contributed to this story.