This is an archived article and the information in the article may be outdated. Please look at the time stamp on the story to see when it was last updated.
A military jet crashed into homes in a residential neighborhood in Imperial County near the Arizona border on Wednesday afternoon.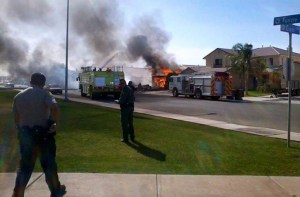 The crash occurred around 4:20 p.m. at Cross Road and Fonzie Avenue in the city of Imperial (map), California Highway Patrol officials told KSWB.
Facebook photos taken by one resident showed a home on fire.
A total of eight homes were evacuated as a precaution, according to the Marine Corps Air Station Miramar's Twitter account.
At least three homes were destroyed by flames, officials said.
The aircraft involved in the crash was described as an AV-8B Harrier Jet stationed at Marine Corps Air Station Yuma.
The pilot ejected safely and was transported to a local hospital for evaluation, according to a statement from Maj. Carl Benjamin Redding Jr. with MCAS Miramar Public Affairs.
Video shot by a resident at the scene showed witnesses rushing to the pilot's aid after he landed on a neighborhood street.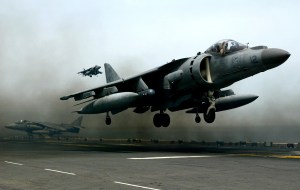 "I heard like a pop and a whistle. And right when I looked up is when I saw the pilot eject," Shaun Penniman told KGTV.
There were no reports of injuries on the ground.
An investigation will be conducted to determine the cause of the crash, Redding said.
The Harrier was the first Marine aircraft capable of vertical takeoff and landings, according to the U.S. Marine Corps website.
The jet is able to "hover like a helicopter, and then blast forward like a jet at near-supersonic speeds," the website said.
The city of Imperial is home to nearly 16,000 residents and is located 90 miles east of San Diego.
We R thankful no residents were injured 2day. We will work w/ those affected & will conduct a thorough investigation. Thx #1stresponders

— MCAS Miramar (@MCASMiramarCA) June 5, 2014
According to Imperial County officials, 8 houses have been evacuated until they give the all clear. At this time, no injuries reported.

— MCAS Miramar (@MCASMiramarCA) June 5, 2014
Harrier f/ #MCAS Yuma crashed in Imperial CA. It impacted civilian structures. No update on injuries. Pilot ejected. More info 2 come.

— MCAS Miramar (@MCASMiramarCA) June 5, 2014