This is an archived article and the information in the article may be outdated. Please look at the time stamp on the story to see when it was last updated.
Iwo Jima. Korea. Vietnam. Iraq.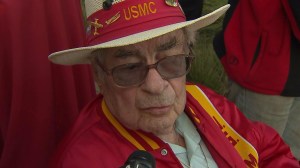 Military veterans who served in these and other theaters of operations were feted Saturday with a free barbecue and concert at the U.S. Department of Veterans Affairs campus in West Los Angeles.
Hosted by the VA Greater Los Angeles Healthcare System and Greater Los Angeles Fisher House Foundation, the second annual Day for Heroes was attended by thousands of current and former servicemen and women and their loved ones.
"They're actually giving back — understanding that because we gave America a blank check when we were 18, written in blood, said that we would die for this country," said Maurice Mitchell, a Marine veteran. "This is what they're doing for us, and we really appreciate it."
Actor Lou Gossett Jr. emceed the event, which featured food from Smokin' Steve's Pit BBQ and a live performance by the '90s band Sugar Ray ("They still have it," Mitchell said).
Wearing a cap that indicated her service in the Iraq War, Mickiela Montoya offered a greeting to her brothers and sisters in arms: "Happy Veterans Day to all veterans out there, from all eras – the heroes and the she-roes."