This is an archived article and the information in the article may be outdated. Please look at the time stamp on the story to see when it was last updated.
Several people were treated, one with serious injuries, after a vehicle crashed into a business in Valley Village Tuesday, according to the Los Angeles Fire Department.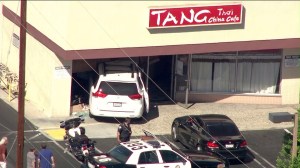 The minivan containing a driver and two passengers crashed through the glass storefront of the restaurant just after 2 p.m., according to an alert sent out by the fire department's Erik Scott.
Twenty-three firefighters and three ambulances were responding, Scott said.
Five patients were evaluated at the scene, and one was taken to a local hospital in serious condition with injuries to his or her extremities, Scott said.
There was damage to the glass and aluminum framing, Scot said..
The business, in the 5200 block of Laurel Canyon Boulevard (map), appeared to be a Chinese-Thai restaurant, aerial video showed. A white Toyota minivan was lodged halfway into the restaurant.