This is an archived article and the information in the article may be outdated. Please look at the time stamp on the story to see when it was last updated.
9-year-old Daniel Morozov has been "safely located" after an Amber Alert was issued for his disappearance in Santa Maria, the California Highway Patrol said in a tweet.
The father of the boy, Konstantin Morozov, was suspected of abducting him and was named a "person of interest" in the killing of his mother, according to Santa Maria police.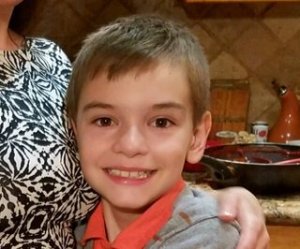 Local police decided to send out the alert after responding to a fatal shooting in the 200 block of North College Drive. The person killed in that incident was the boy's mother, Santa Maria Police Sgt. Jesus Valle told the Los Angeles Times.
An Amber Alert had previously been in place for Santa Barbara, Los Angeles and Ventura counties, according to the California Highway Patrol. It stated Konstantin Morozov was the suspect and should be considered "armed and dangerous."
The alert went out to cellphones in the region just after 11:30 a.m., with freeway signs also lit with the alert's message.
The vehicle that Konstantin Morozov left in — a blue 2015 Volkswagen Golf hatchback — was found abandoned in Santa Maria later in the day, as the Department tweeted just before 10 a.m.
Amber Alert update Volkswagen found abandoned in Santa Maria may be travelling in a blk late model SUV https://t.co/GcheWKqjsx pic.twitter.com/P0aNwaTEBf

— City of Santa Maria Police Department (@SMPDHQ) August 22, 2017
The suspect and his abducted son were then thought to be driving a 2017 black Jeep with the California license plate 7XZK698, as Santa Maria police tweeted. But that vehicle was also later found, as police confirmed in a tweet at about 4 p.m.
A person who spoke to Santa Barbara TV station KEYT anonymously said that the Jeep was parked in a Santa Barbara neighborhood at about 2 a.m. and a man was seen climbing into another vehicle.