This is an archived article and the information in the article may be outdated. Please look at the time stamp on the story to see when it was last updated.
A 99-year-old man who went missing Friday has been found safe, Los Angeles police said.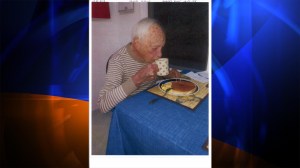 Aubrey Finn was found about 1:30 a.m. Saturday near Kaiser Permanente Medical Center, in the 6000 block of Cadillac Ave. in Mid-City (map), according to Sgt. Mark Cohan of the Los Angeles Police Department's Hollywood Division.
Finn had last seen been seen around 3:30 p.m. Friday in front of a Care Health Center located on the 4600 block of Fountain Avenue in East Hollywood (map), the LAPD said in a news release.
Finn's caretaker lost sight of him, police said, and the 99-year-old had not been seen or heard from since.
"His caretaker and family are extremely concerned for his welfare due to Mr. Finn's health condition," the release said.