This is an archived article and the information in the article may be outdated. Please look at the time stamp on the story to see when it was last updated.
After an Amber Alert was issued Thursday afternoon for a 15-year-old girl who was abducted the previous day and last seen in the Vallejo area bleeding and yelling for help, the suspect in her disappearance was fatally shot in a confrontation with authorities, a sheriff's spokeswoman said.
A vehicle connected to 19-year-old Fernando Castro, identified as a suspect in the disappearance of Pearl Pinson, was spotted on the freeway near Los Alamos about 3:10 p.m., Santa Barbara County Sheriff's Office spokeswoman Kelly Hoover said.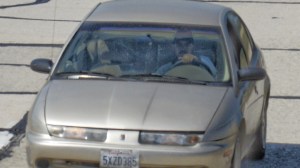 The California Highway Patrol followed the car to Buellton, through Solvang and into a residential neighborhood, where the vehicle crashed at a mobile home park, Hoover said at a news conference. The driver broke into a mobile home and then began firing shots, Hoover said.
He got into another vehicle and drove off, and then shots were exchanged. The man was found fatally shot inside the vehicle, Hoover said.
Pinson had not been located, the Solano County Sheriff's Office said on Twitter about 4 p.m. Hoover said the FBI and other agencies were trying to figure out what happened.
"Definitely everyone is very concerned for her welfare," Hoover said.
The shooting came soon after the CHP issued the Amber Alert for the counties of Solano, Yolo, Sacramento, Contra Costa, Alameda, Napa and San Joaquin following the kidnapping of Pinson.
The abduction began 7 a.m. Wednesday, when deputies responded to the Interstate 780 pedestrian over-crossing for a call of multiple shots fired. A witness reported seeing a girl bleeding and screaming for help as a man pulled her on the over-crossing, according to a post on the Solano County sheriff's Facebook page.
The witness told deputies the man had a firearm and that he heard a gunshot. Blood was later found on the ground, but investigators did not locate anyone in the area, the post stated.
Pinson was soon after identified as the victim.  She was reported missing after failing to arrive at school that day; the missing teen has not been seen since the incident on the over-crossing.
Authorities could not confirm whether Pinson was shot, nor did they know the extent of her injuries.
"We are very concerned," Deputy Christine Castillo told KTLA sister station KTXL in Sacramento. "Our number one priority right now is reaching out to our community, asking for their help and finding Pearl."
She is described as white, 5 feet 3 inches tall, weighing approximately 130 pounds with brown hair dyed green; she was wearing a gray sweater and black leggings at the time of her disappearance, according to CHP. Pinson was also carrying a black and turquoise backpack.
Castro was driving a gold, four-door 1997 Saturn with California license plate No. 5XZD385.
Anyone who sees Pinson was encouraged to call 911 or the Solano County Sheriff's Office at 707-784-7061. Those who wish to leave a tip anonymously can call Crime Stoppers at 707-644-7867.