This is an archived article and the information in the article may be outdated. Please look at the time stamp on the story to see when it was last updated.
One week after a missing 23-year-old Cal State Fullerton student was reported missing, his body was found floating about 1,000 feet offshore in Newport Beach, the Orange County coroner's office said Wednesday.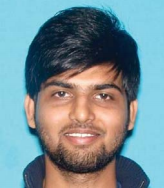 Praveen Galla was reported missing on Feb. 2. His body was located by Huntington Beach lifeguards around 11:30 a.m. Tuesday, the coroner's office confirmed.
"The decedent was found in the ocean," the coroner's website stated, giving the location as 1,000 feet from the pier.
The condition of Galla's body was not known, and an autopsy would determine his cause of death.
Galla was last seen on Feb. 1, when he took an Uber vehicle from Fullerton to California State University, Fullerton, according to a missing persons flyer sent out by campus police on Feb. 3.
The reporting party said he received a notification on his cellphone that Galla had "checked in" in Newport Beach, and believed the student had taken a bus from Fullerton to the area.
His reason for going to Newport Beach was not known.
"Roommates stated it is not like Galla to not return home and that he has been depressed lately," the police flyer stated.