This is an archived article and the information in the article may be outdated. Please look at the time stamp on the story to see when it was last updated.
The body of a missing 1-year-old girl was recovered in the Walnut Grove area Sunday in the same area of Walnut Grove where her deceased father was located a day earlier, authorities said.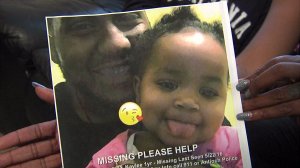 Kaylee Jackson was found dead in the Georgiana Slough, about a half-mile from where her father's body was recovered, KTLA sister station KTXL reported, citing the Sacramento County Sheriff's Department.
Kyler Jackson and his daughter had not been seen since last Sunday night when they left Antioch for Sacramento, according to the station.
The father's body was located Saturday after two local fire departments were dispatched to a water rescue in the area of Andrus Island Road, in the Georgiana Slough, the station reported.
After authorities reported the discovery, relatives of the 23-year-old man said they believed the body belonged to their loved one. The Sacramento County Sheriff's Department later confirmed the identification.
The mother of the missing girl, Jayonna Mason, told KTXL earlier in the week that the pair would have taken Highway 160 to get to Sacramento. The stretch of road that runs along the delta is known to be windy, and she feared their car went into the water.
The devastated woman collapsed upon hearing that her baby was found dead, according to the station.
Kaylee's mom collapsed when she was told the news about the body found-This whole situation is heartbreaking for everyone involved @FOX40

— Sara Zendehnam (@szendehnam) May 29, 2016
It was unknown how the two died.
Their vehicle still has not yet been located.
Authorities have encouraged anyone with information to call the Antioch Police Department at 925-778-2441 or Sacramento police at 916-264-5471.