This is an archived article and the information in the article may be outdated. Please look at the time stamp on the story to see when it was last updated.
Five days after a 2-year-old girl disappeared during a supervised visit with her father at The Grove on Christmas Eve, he was in custody and she was reunited with her mother, who on Tuesday thanked the public and police for their help finding her.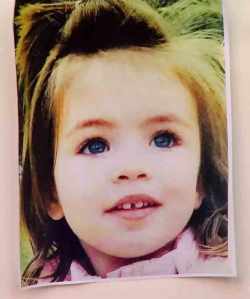 Lucia Perry disappeared along with 31-year-old Jack Perry from the Fairfax-area mall about 5 p.m. Dec. 24, police said Monday. The court-appointed individual supervising the visit "lost sight" of the pair, and immediately notified LAPD patrol officers at the mall.
After days trying to find the child and her father, police went public with the case Monday, partly because investigators feared Jack Perry, a British national, might take the girl out of the country.
The pair were found in Palm Springs thanks to a tip from a witness who recognized them from news coverage.
At a Tuesday afternoon news conference, police said Perry would remain in custody and was expected to be charged with attempted kidnapping and child concealment.
Perry will not be able to bail out due to charges against him in Florida, where he may be extradited before facing charges locally, according to the Los Angeles Police Department.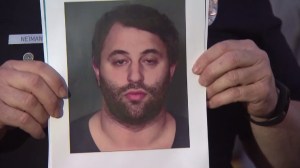 Police called the girl's safe return a "very happy ending."
"This is the reason we join law enforcement," LAPD Lt. Jim Gavin said. "I couldn't ask for a better ending."
Less than three hours after an early-evening news conference on the girl's disappearance Monday, a woman who had seen Lucia and her father called Palm Springs police and said she recognized the pair. They had been at a condominium complex for about two days, the woman said, according to LAPD Capt. Lillian Carranza.
The tip was shared with Palm Springs police, who learned that Jack Perry had rented an apartment on Sunday under a fictitious name, an LAPD news release stated.
Police surrounded the unit and heard a man's voice and a little girl crying, Carranza said Tuesday. In response to a phoned police "ruse," Jack Perry said he wasn't at the condo. But he exited through a back door and was taken into custody, Carranza said.
Lucia was there and appeared to be unharmed, police said. LAPD officers, along with the girl's mother, went to bring the girl home. Both Jack and Lucia Perry arrived back in the L.A. area around 3 a.m. Tuesday, police said.
The girl's mother, Elise Perry, said she saw multiple suitcases at the scene and believed Jack Perry planned to take his daughter away.
"He clearly didn't intend to come back with the child," Elise Perry said Tuesday.
Elise Perry thanked police, news media and the public, including people who shared her daughter's image on social media. She marveled at how quickly her daughter was found after their story went public.
"I've never felt so happy in my life," Elise Perry said. "I can't say thank you enough."
Lucia had Christmas Thursday and opened lots of presents, she said.
Los Angeles County inmate records showed Jack Perry was booked about 4:30 a.m. Tuesday.
There were unresolved warrants for his arrest in Miami-Dade County, Florida, Gavin said. Authorities there have indicated they want him extradited.
Los Angeles County prosecutors were expected to file charges against him filed either Tuesday or Wednesday, Gavin said.
Elise Perry said she and Jack Perry have been legally separated since February but were "not divorced yet."