This is an archived article and the information in the article may be outdated. Please look at the time stamp on the story to see when it was last updated.
Two days after two missing middle school students were last seen, family members and police said Monday that the pair had been found safe.
Ashley Montes, 12, and Timothy Jacob Reed, 14, both students at Mark Twain Middle School in Mar Vista, were last seen around 4 p.m. Saturday, according to the Los Angeles Police Department.
On Monday evening around 9 p.m., police received a radio call that both missing juveniles had returned to Ashley Montes' home.
Detectives were questioning both juveniles, who looked safe and healthy, police said.
Montes' mother wept as she begged her daughter to come home Monday.
"She told me she's never going to leave me," Cecilia Sanchez said. "I love you, Ashley. Please come back. I miss you a lot."
Police said there was no evidence of foul play, and that neither child had a history of running away.
"I don't have any history of them running away," LAPD Officer Mike Lopez said. "Their parents are really concerned."
Officers released a "critical missing" flier for the youngsters on Monday.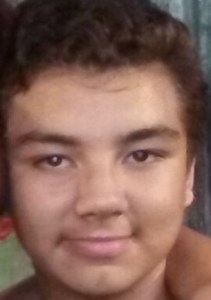 The pair was swimming at Venice High School when they told a friend they planned to take a bus to Venice Beach, police said. Authorities initially said the pair had been swimming at their middle school, but on Monday police said the children were at the high school. 
Friends told police they may have planned to run away.
Lopez told the Los Angeles Times they were last seen boarding a bus. However, the friend who reported seeing the couple get on the bus later said they actually walked away from the bus stop.
That second account was confirmed by another witness, who said she saw them about 5:15 p.m. Saturday.
"I saw these kids were walking north toward Santa Monica, not toward Venice or Venice Boulevard, where the bus stop is," Josiko Ellis said.
Both children had cellphones, but had not answered repeated calls.
Parents reported the children's disappearance Saturday night. Reed's stepfather said the two mothers were "scared to death."
"I'm just really praying that they're just being really dumb right now, that they're just being stupid kids," said Ryan Clark, the boy's stepfather. "Maybe at this point, they're just scared to come home because they think they're going to be in trouble. But that's not going to be the case at all. We just want you guys to come home."
Family members said the two were dating though they had been told not to do so because of the age difference between them.
Clark said relatives had been handing out fliers and talking to people in the neighborhood.
Police said they planned to review any relevant surveillance footage. School police were aware the pair were missing, according to LAPD.
Anyone with information was asked to call LAPD's Pacific Area at 310-482-6334. During non-business hours and weekends, tipsters could contact 877-527-3247.
Those wishing to remain anonymous were asked to call Crime Stoppers at 800-222-8477.
More video: