This is an archived article and the information in the article may be outdated. Please look at the time stamp on the story to see when it was last updated.
A 27-year-old Laguna Hills woman who has been missing since a Valentine's Day date was the subject of a four-month court order to stay away with her ex-boyfriend in connection with an alleged domestic violence incident in November, according to court documents.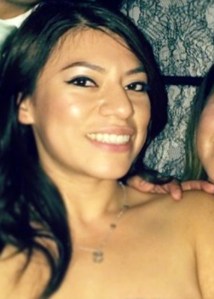 Erica Alonso was taken into custody Nov. 2, and her ex-boyfriend was listed as the victim in Orange County Superior Court documents that were obtained by KTLA on Wednesday.
She was charged Nov. 4 with misdemeanor domestic violence with corporal injury, but that case was later dropped and the restraining order against her was lifted — just over a week before Alonso disappeared.
Alonso was last seen early on the morning of Feb. 15, after a Valentine's Day date. The pair had met another couple at the Sutra Lounge in Costa Mesa and gotten a ride from them back to Alonso's ex-boyfriend's apartment in Irvine, according to the Orange County Sheriff's Department.
Then there was an argument between Alonso and her ex-boyfriend, prompting the couple to leave the apartment in the early morning hours; Alonso left the home 10 to 15 minutes later and has not been seen since, investigators said.
The couple has spoken to investigators, saying it was not clear what Alonso and her ex-boyfriend were arguing over.
After the Sheriff's Department publicized the disappearance on Feb. 19, Alonso's family pleaded for help finding her, saying it was very unlike her to be out of touch.
Authorities initially described the man as her boyfriend, but later also called him an ex-boyfriend. Her older sister Patricia Alonso said the man was an ex-boyfriend and they were "working on" the relationship of about two years.
"I know she really loved him and cared for him a lot. That's why she wanted to really try and make things work," Patricia Alonso said on Friday. "They were very much alike, which isn't always a good thing."
After the Nov. 2 incident, which neighbors told KTLA they had witnessed, a restraining order was filed against Alonso and she was ordered to keep away from her ex-boyfriend. Irvine police confirmed officers responded to the ex-boyfriend's home on Nov. 2 for a "spousal abuse" call.
Then, in December, Alonso was ordered to attend alcohol abuse counseling sessions, among other terms that were part of a request that the case be postponed.
On Feb. 6, a little over a week before Alonso disappeared, the restraining order was lifted and the domestic violence case against her was dismissed, court records show.
The boyfriend was not described as a suspect in Alonso's disappearance, and his name has not been released. He has not spoken publicly.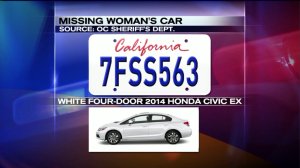 "This person, he was not somebody that Erica met a day ago. There has been some type of off-and-on-again relationship," sheriff's Lt. Jeff Hallock said Friday. "We're not looking at this as a crime."
Everything the boyfriend said has "checked out," Hallock said. He described the investigation as being at a dead-end.
Authorities were looking for Alonso's white four-door 2014 Honda Civic EX with California license plate No. 7FSS563.
More video: