This is an archived article and the information in the article may be outdated. Please look at the time stamp on the story to see when it was last updated.
Authorities have opened a murder-suicide investigation after a missing couple was found shot dead near the California Aqueduct in an unincorporated area of the northwest Antelope Valley on Thursday.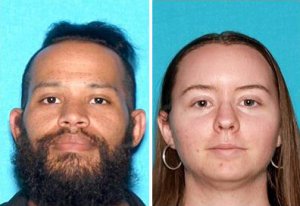 Lancaster residents Jovan Webb, 30, and Haley Mercier, 27, were last seen Wednesday around 6 a.m., the Los Angeles County Sheriff's Department said in a news release.
Family members were concerned for their safety, especially as Webb struggles with depression, investigators said.
A relative contacted sheriff's officials around 12:30 p.m. Thursday to report that they had located the red, older model Mazda Miata Convertible the couple was believed to be traveling in. Detectives did not specify where the car was found.
Deputies responded to the area and conducted an extensive search in the air and on ground, the Sheriff's Department said.
Eventually, a man and woman were found near where Munz Ranch Road meets the aqueduct around 3:30 p.m.
Each was suffering from a single gunshot wound to their upper body, and both were pronounced dead at the scene, officials said.
A gun was also recovered.
Detectives believe the bodies to be Webb and Mercier, though the victims have not been positively identified by coroner's officials.
Investigators did not provide further details about the incident.