This is an archived article and the information in the article may be outdated. Please look at the time stamp on the story to see when it was last updated.
A 27-year-old pregnant woman who had been reported missing in La Habra was found safe outside a Pasadena grocery store Thursday after a bystander recognized the woman from news reports and called police.
Adrienne Elise Moreno was spotted sitting outside a Ralphs store located at 3601 E. Foothill Blvd., Pasadena Police Department Lt. Johnny Mercado said.
Moreno, who is eight and half months pregnant, was taken to Pasadena police headquarters, Mercado said.
Police were alerted to Moreno's location after bystander Cecilia Pena recognized the woman, took a few photos and called 911.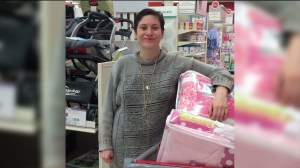 Moreno, a resident of a mental health facility in Long Beach, was last seen Tuesday at the clinic, and was believed to have fled while her caregiver was in the restroom, according to her father.
The woman has previously disappeared multiple times, her father said.
She was transported from Pasadena back to La Habra and appears unharmed, a La Habra Police Department news release stated. She was missing for about 48 hours, according to the release.
KTLA's Melissa Pamer contributed to this article
More Video: