This is an archived article and the information in the article may be outdated. Please look at the time stamp on the story to see when it was last updated.
The Los Angeles County Sheriff's Department asked the public for help in their search for an inmate accused in a gang-related killing who was mistakenly released over the weekend.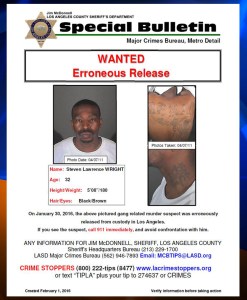 The inmate, 37-year-old Steven Lawrence Wright, was let go from the Sheriff's Department's Inmate Reception Center at about 12:55 p.m. Saturday, the Sheriff's Department stated in a news release Monday.
Authorities became aware of the mistake Sunday evening and immediately began searching for Wright with assistance from the Pasadena Police Department, according to the news release.
Wright had been in custody pending trial for a gang-related killing that occurred in the city of Pasadena in 2011, the Sheriff's Department stated.
A task force with the Sheriff's Department's Major Crimes Bureau was implemented to gather information and investigate tips that may lead to Wright's capture.
A critical incident review of the erroneous release would be conducted so improvements to the system can be made, according to the Sheriff's Department.
Anyone with information on the whereabouts of Wright was asked to contact the Sheriff's Department at 562-946-7231.
Those who wish to remain anonymous can call "Crime Stoppers" by dialing 800-222-TIPS (8477).\