This is an archived article and the information in the article may be outdated. Please look at the time stamp on the story to see when it was last updated.
A mixed bag of weather Friday is bringing red flag warnings, freezing temperatures, gusty winds and a even a chance of rain to Southern California as we head into the weekend.
Powerful offshore winds have already hit Los Angeles and Ventura County valleys especially hard this week, with wind speeds generally between 40 and 45 mph, the National Weather Service reported.
A gust of 72 mph was measured in Malibu Hills Thursday morning.
In Granada Hills, a large tree broke through a wall as it came crashing down on top of a house.
"We hear this thunderous noise ... the window in our master bedroom broke open and we realized that the tree bordering the side of our house fell down," homeowner Michael Colon said.
Big rigs also had trouble staying upright in Kern County Thursday as winds there lifted trucks right off the ground.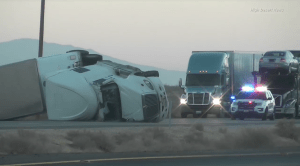 Forecasters have called for red flag warnings through parts of Los Angeles and Ventura County valleys until 6 p.m. Friday due to low relative humidity levels and continuing gusty winds.
Folks in the Antelope Valley also had freezing temperatures to deal with Thursday night.
Residents were asked to bring animals inside and cover plants again Friday evening as another round of freezing temperatures may hit the area overnight, according to the Weather Service.
More changes in the weather are expected to arrive over the weekend as a storm system approaches the west coast.
The storm could bring rain to Southern California Saturday through Monday, with locations south of Point Conception most likely to see showers Sunday and Monday.
Snow levels are expected to drop to about the 6,000-foot level, according to the Weather Service.