This is an archived article and the information in the article may be outdated. Please look at the time stamp on the story to see when it was last updated.
Jason "Mayhem" Miller, the mixed martial arts fighter who live-tweeted an hourslong standoff with the Sheriff's Department about two weeks ago at his Mission Viejo home, created a GoFundMe page Monday.
The #FreeGator Mayhem Campaign page did not explicitly say what the $2 million requested would be used for, but stated, "I am a mixed martial artist, and any money that you invest will be reinvested into the art."
Miller also stated the Oct. 9 incident caused "extensive" damage to his home, including a broken gate that his dog, Gator Hotdog Dog, was able to escape through. Officials later found the dog and stated they would not return it until paid about $400, according to the GoFundMe page.
"I will also #FreeGator from his small concrete cell, and hire a camera crew to document this turbulent time in my existence," Miller stated on the GoFundMe page.
Deputies initially planned to serve the MMA fighter an arrest warrant on Oct. 9 for alleged stalking and domestic violence when Miller barricaded himself inside the home and began live-tweeting the standoff from his verified Twitter account.
The first officer on scene had his weapon unholstered and Miller went back inside his house to "wait for an officer that I knew to arrive," he stated on the GoFundMe page.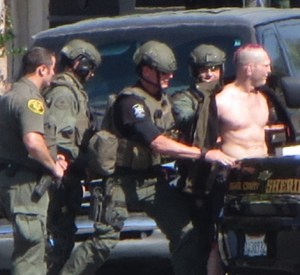 Miller continued to defend his actions, stating, "I am not guilty of any charges leveled against me."
During the four-hour ordeal Miller tweeted his address, encouraging people to come "see this drama unfold," and documented the damage done to his home.
Two windows were "smashed" and C4 explosives were used on Miller's front door during the incident, he stated on the GoFundMe page. The total cost of damage was not disclosed.
"The damage to my home was extensive, and although the Sherriff eventually came and boarded the broken entrances to my home, they have not responded to my requests for reimbursement," he stated on the GoFundMe page.
Miller eventually surrendered and was taken into custody on the arrest warrant, as well as obstructing and delaying a peace officer resulting from the incident, authorities said.
Miller appeared in court last Monday, pleading not guilty to resisting arrest and returned to Twitter, stating, "court went well. I have faith in America and California. I have faith."
On Friday, Miller tweeted about the GoFundMe page over a dozen times:
I'm raising money for Mayhem Miller Campaign. Click to Donate: http://t.co/tE1zQXJ3So via @gofundme #FREEGATOR

— Jason Mayhem Miller (@mayhemmiller) October 27, 2014
The State is holding hotdog hostage and threatening to cut his balls off. This is not an America i want! Thanks a lot @Schwarzenegger

— Jason Mayhem Miller (@mayhemmiller) October 27, 2014
Fifteen hundred bucks, and we will COLLABORATE on a tattoo that will GO ON MY BODY…. http://t.co/4fu1Z6YYtP

— Jason Mayhem Miller (@mayhemmiller) October 27, 2014
Thirteen people had donated a total of $400 by late Monday afternoon.