This is an archived article and the information in the article may be outdated. Please look at the time stamp on the story to see when it was last updated.
Mixed-martial arts fighter Jonathan "War Machine" Koppenhaver was extradited to Las Vegas on Saturday, more than two weeks after he was arrested in California in connection with the brutal assault of his porn star ex-girlfriend, according to Clark County inmate records.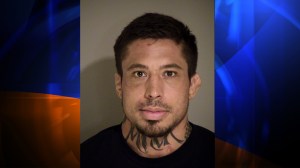 Koppenhaver, 32, was ordered returned to Nevada at a Ventura County court hearing last week following his Aug. 15 arrest in Simi Valley.
The MMA fighter fled to Simi Valley, where he is from, after allegedly beating Christy Mack in Las Vegas on Aug. 8, and leaving the adult film star with serious injuries.
Mack posted graphic photos on Twitter showing injuries she said were dealt to her by Koppenhaver, along with a statement in which she accused Koppenhaver of assaulting her after he made her undress and shower in front of him.
She fled naked from her home after he left the room, and she feared he was getting a knife, according to the statement.
Mack suffered 18 broken bones and a ruptured liver, among other injuries, she said.
Koppenhaver was booked Saturday into Clark County jail on numerous charges, including several counts of battery, assault with a deadly weapon, coercion by force and open and gross lewdness, inmate records showed.
He could face more than 25 years if convicted.
KTLA's Melissa Pamer contributed to this report.