This is an archived article and the information in the article may be outdated. Please look at the time stamp on the story to see when it was last updated.
SANTA ANA (KTLA) — A woman accused of throwing her baby from the fourth floor of a hospital parking structure pleaded not guilty by reason of insanity in court Wednesday.
On August 22, 2011, Sonia Hermosillo is accused of driving her 7-month old son, Noe, to the Children's Hospital of Orange County (CHOC) and parking her car on the fourth floor of a parking structure.
The baby suffered medical conditions that required him to be treated at CHOC regularly, but he did not have a scheduled appointment that day.
The baby was born with congenital muscular torticollis, which causes the neck to twist to one side.
He wore a helmet to correct his plagiocephaly, also known as flat-head syndrome.
Prosecutors say Hermosillo removed the boy's helmet and pushed him from the parking structure.
He died a week later after being taken off life support.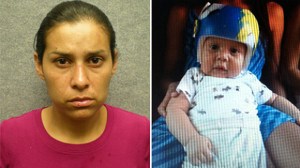 Hermosillo is then accused of then walking inside the hospital, validating her parking and driving away.
A witness who saw the baby fall called 911.
Police reviewed surveillance video and spotted a vehicle leaving the structure with a lone female driver.
They traced the license plate to a residence in La Habra.
Investigators say during that time, they received a call from a man reporting his wife, Sonia, and their 7-month-old son missing.
Officers later spotted the woman's vehicle near CHOC Hospital on Main Street.
"There was a child seat in the vehicle, but no baby," police said in a press release.
Hermosillo's husband, Noe Medina, told police his wife had been hospitalized recently for depression and was not allowed to be alone with the baby.
He asked the public for compassion for his wife, who he says is mentally ill.
"Please do not hold any grudge against his wife. She didn't do it on purpose. She didn't know what she was doing. Please understand her mental condition," Medina said through an interpreter.
"Please understand the pain he's suffering. He just lost a child. He doesn't want to lose his wife now," the interpreter added.
Medina says Hermosillo grabbed the baby while he was watching the couple's two other children at their home in La Habra.
He was not immediately aware of what had happened, but called police to report them missing.
Medina says Hermosillo suffered from postpartum depression and started going to therapy.
He also says she could not handle the baby's medical issues.
If convicted, Hermosillo faces a maximum sentence of 25 years to life in prison.
She is due back in court Feb. 22 for a trial setting conference.