This is an archived article and the information in the article may be outdated. Please look at the time stamp on the story to see when it was last updated.
A mother who was under the influence of drugs when she crashed her car last year, killing her 3-year-old daughter, was sentenced Friday to 13 years and four months in prison.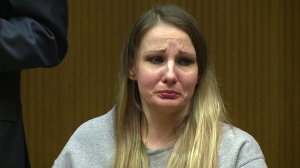 Brandy Lee Teague, 32, was charged in the death of Carlee Ramirez, one of Teague's three children. The others — two boys, ages 10 and 21 months — also were in the car during the crash in in El Cajon, Calif. They were injured but survived. The youngest child still has trouble walking, a prosecutor said.
In March, a jury found Teague guilty of vehicular manslaughter while intoxicated, three counts of child endangerment, DUI and possession of methamphetamine.
At the sentencing hearing, El Cajon Superior Court Judge Evan Kirvin denied a defense lawyer's request that Teague be placed on probation, but the judge said he did take the defendant's lack of a previous criminal history into account when he determined her punishment.
Click here to read the full story on LATimes.com.