This is an archived article and the information in the article may be outdated. Please look at the time stamp on the story to see when it was last updated.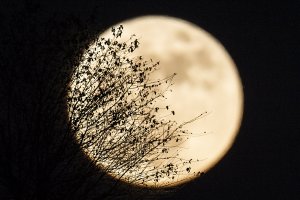 The biggest and closest "supermoon" in nearly 70 years lit up the sky Monday morning, according to NASA.
A supermoon — also known as a perigee moon — refers broadly to when a full moon is closer to Earth than normal, NASA said.
Nov. 14 will mark the "closest" full moon to date of this century and is expected to peak shortly before 6 a.m., according to Space.com.
Supermoons generally appear to be 14% bigger and 30% brighter than other full moons.
While such moons occur around every 13 months, November's is a special one.
According to NASA, this month's supermoon "becomes full within about two hours of perigee—arguably making it an extra-super moon."
A full moon won't appear as close to the one this month until Nov. 25, 2034.
A month after the mega-supermoon, another supermoon will rise on December 14.
It too will be a sight to behold, but it'll also limit our opportunity to see something just as beautiful — a Geminid meteor shower.
The Geminid meteor shower, an annual event, got its name because the meteors look like they're coming from the constellation of Gemini.