This is an archived article and the information in the article may be outdated. Please look at the time stamp on the story to see when it was last updated.
MONROVIA, Calif. (KTLA) — A brush fire in the foothills of Monrovia that forced several neighborhoods to evacuate is now almost completely contained.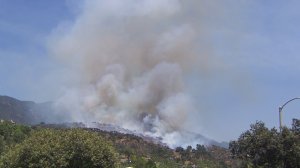 The so-called Madison Fire is 85 percent contained, authorities said on Sunday. Some 125 acres have burned.
There was no estimate available on when the fire will be 100 percent contained.
The City of Monrovia said in a statement Sunday afternoon that all residents have been permitted to go back to their homes, and all street closures were being lifted.
About 160 firefighters were working the blaze from the air and on the ground on Sunday, officials said.
The fire broke out shortly after 11 a.m. on Saturday near Crescent Drive and Madison Avenue.
Evacuations went into effect about 1:45 p.m., but almost all residents were allowed to return to their homes later in the evening.
Monrovia city spokeswoman Jennifer McClain said that at least 200 homes were evacuated.
Some 65 engines, two air tankers and five helicopters battled the flames.
Authorities say a piece of equipment used by a gardener sparked the fire. The wind, combined with dry conditions, helped the flames spread quickly.