This is an archived article and the information in the article may be outdated. Please look at the time stamp on the story to see when it was last updated.
A man who is suspected of kidnapping and sexually assaulting women he allegedly lured using drugs has been charged, Los Angeles County District Attorney's Office announced Friday.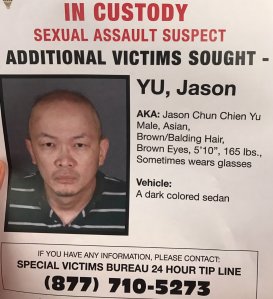 Jason Chung Chien Yu, 41, of Monrovia was charged with two counts of sodomy by use of force, assault to commit rape and false imprisonment. He also faces one count each of kidnapping to commit rape, forcible oral copulation and making criminal threats.
Officials believe he targeted women ranging between 22 and 60 years old who are are addicted to drugs, and he allegedly promised the victims money or drugs in exchange for sex.
Yu's alleged crimes date back to Feb. 2012, when he is suspected of kidnapping a woman "to commit rape," DA officials said in a news release.
In April 2016, Yu allegedly beat and sodomized a woman, then assaulted another woman in April. He was arrested on May 24.
The incidents occurred in El Monte, Monterey Park, Temple City and Lynwood, the Sheriff's Department said at a June 6 news conference. Yu would bring victims to motels where he would hold them captive and sexually assault them, investigators said.
Yu is being held on $1.37 million bail and faces up to life in prison if convicted as charged.