This is an archived article and the information in the article may be outdated. Please look at the time stamp on the story to see when it was last updated.
HUNTINGTON BEACH, Calif. (KTLA) — A group of fishermen may have broken a world record with a huge shark caught off the coast of Huntington Beach.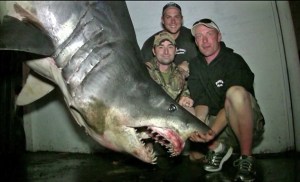 A fisherman named Jason Johnston, from Mesquite, Texas, chartered a boat out of Huntington Beach on Monday.
His group hooked a massive shortfin mako shark about 15 miles offshore.
The shark was 11 feet long, 8 feet in girth and more than 1,300 pounds, according to the fishermen's estimates.
It took more than two hours and a quarter-mile of line to reel in the shark, according to Johnston.
The shark was being taken to a weigh yard in Gardena to be certified by a weigh master.
It was expected to be donated to a research organization for study.
As they waited for news on their possible world record, the fishermen planned to head out again on Tuesday for another adventure.