This is an archived article and the information in the article may be outdated. Please look at the time stamp on the story to see when it was last updated.
A man was sentenced to 41 years to life in prison after pleading no contest Monday to killing a man who had arranged to sell a gold necklace to him in Montebello in 2015, according to the Los Angeles County District Attorney's Office.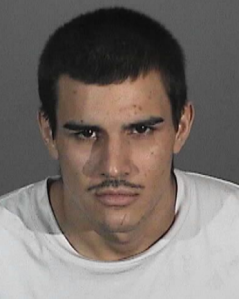 Sean Matthew Garcia, 28, of Montebello, entered the plea to one felony count each of first-degree murder and second-degree robbery and admitted using a gun in the commission of the crimes, a news release stated.
The victim, identified as Brian Gomez, 28, had arranged to sell a $2,000 gold necklace to Garcia through OfferUp.com, police said. The two men agreed to meet on Sept. 28, 2015, in the 1600 block of Neil Armstrong Street, according to officials.
Montebello Police Department Chief Kevin McClure initially said Gomez and his wife were approached by Garcia and asked to enter a building. When Gomez refused, Garcia retrieved an assault rifle from a nearby bush, the chief added.
Garcia chased Gomez and fired twice at his feet when the victim stopped, the DA's office stated. Gomez charged at Garcia, who shot the victim in the head and killed him, the news release read. Authorities described the incident as an "ambush."
Garcia also pleaded no contest to stealing an assault rifle from its owner in August 2015, prosecutors said.