This is an archived article and the information in the article may be outdated. Please look at the time stamp on the story to see when it was last updated.
Devastating mudslides that destroyed homes and trapped residents in Montecito on Tuesday occurred in an area that was not under mandatory evacuation orders, officials said.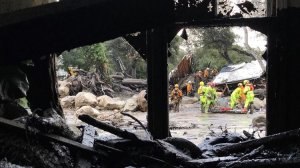 Mud from a swollen creek slammed into homes in the 300 block of Hot Springs Road and nearby streets. Several people in Santa Barbara County died in the mudslides, but it's unclear how many were in the Montecito neighborhood.
The area was not directly in the Thomas fire burn zone, officials said. During the fires, the location was under voluntary evacuation because it was far south of the burn area, so officials issued only voluntary evacuation orders there Monday night as the storm approached.