This is an archived article and the information in the article may be outdated. Please look at the time stamp on the story to see when it was last updated.
A Monterey Park man has been arrested on a federal smuggling charge after authorities allegedly found three king cobras hidden in potato chip canisters, and three soft-shelled turtles, in a package sent to him from Hong Kong.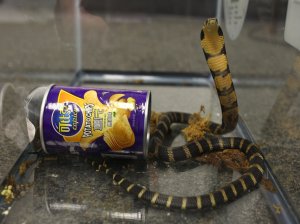 Rodrigo Franco, 34, was arrested by special agents Tuesday morning and charged with one count of illegally importing merchandise into the United States,  according to a news release from the United States Attorney's Office.
The seizure was made March 2 when officials from the United States Customs and Border Protection inspected the package sent from Hong Kong and found three live king cobra snakes, each approximately 2-feet-long, and three albino Chinese soft-shelled turtles, inside of it.
According to a criminal complaint, authorities said on the same day Franco also attempted to mail six protected turtles – desert box, three-toed box and ornate box turtles – to Hong Kong, but that shipment was also intercepted by authorities.
Because the king cobras are highly-venomous, they were seized from the package, but the United States Postal Inspection Service delivered the soft-shelled turtles to Franco's home, the news release said.
Immediately after the delivery, agents with the U.S. Immigration and Customs Enforcement's Homeland Security Investigations and United States Fish and Wildlife Service executed a search warrant at Franco's home.
Investigators found the package that was mailed from Hong Kong in the children's bedroom, and also discovered a tank containing a live baby Morelet crocodile and tanks containing alligator snapping turtles, a common snapping turtle, and five diamond back terrapins, all of which investigators said are protected species.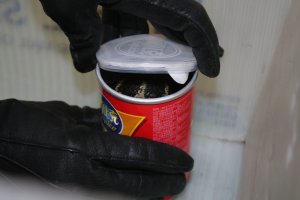 During an interview with authorities, Franco admitted he previously received 20 king cobras in two prior shipments, but he said the snakes died in transit, according to the news release.
The investigation also revealed evidence on Franco's phone with messages between him and a person in Asia discussing the shipment of turtles and snakes. Messages also indicated Franco previously received live cobras from Asia and had plans to give five of the snakes to a relative of his Asian contact, officials said.
If convicted of the smuggling charge, Franco faces a maximum sentence of 20 years in federal prison.