This is an archived article and the information in the article may be outdated. Please look at the time stamp on the story to see when it was last updated.
MONTEREY PARK, Calif. (KTLA) — There was controversy brewing in Monterey Park on Friday over a new rule that could require businesses to post signs in English.
The city council voted unanimously to give preliminary approval to a rule requiring businesses to have at least one sign in the "modern Latin alphabet" — meaning English letters.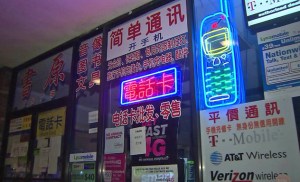 The majority of the population in Monterey Park is Asian, accounting for about 70 percent of its residents.
But police and fire officials argue that it would be easier to navigate in an emergency if businesses had at least one sign in English, instead of Chinese characters.
That is especially the case at night, when it is more difficult to read address numbers, they said.
Those who favor the idea say it would improve the overall community appearance, promote economic development, enhance traffic safety and help with emergency services.
But some business owners say it should be their right to post only signs in Chinese, which is the primary language of their customers.
They also point out that police and the fire department are able to find addresses in residential neighborhoods, where there are no signs.
A final vote by the city council on the matter was scheduled for Aug. 7.