This is an archived article and the information in the article may be outdated. Please look at the time stamp on the story to see when it was last updated.
An officer with the Monterey Park Police Department was charged Monday with sexually assaulting or detaining three women while on duty, the Los Angeles County District Attorney's Office announced Tuesday.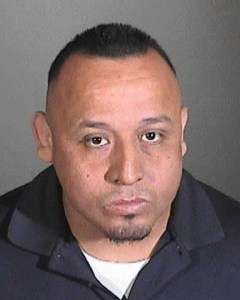 Israel Sanchez was facing three counts of false imprisonment, one count of bribery, two counts of assault under color of authority and four counts of sexual battery by restraint, a news release from the DA's office stated.
The 40-year-old was accused of forcing each of the victims to expose herself during a traffic stop. In two instances, he allegedly went a step further and touched the victims, according to the release.
The victims were between 20 and 28 years old when the alleged assaults occurred between July 28, 2014, and Aug. 15, 2014.
If convicted, Sanchez faced more than eight years in state prison.
The Long Beach Police Department handled the investigation into the allegations against Sanchez at the request of the Monterey Park Police Department.
Detectives believe additional victims may exist and asked anyone with information regarding the case to call the Long Beach Police Department Sex Crimes Detail at 562-570-7368.