This is an archived article and the information in the article may be outdated. Please look at the time stamp on the story to see when it was last updated.
A Monterey Park police K-9 was recovering Wednesday after being critically injured when stung some 60 to 100 times by bees while on duty, veterinarian officials said.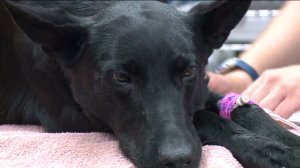 "Robin," a 3-year-old Belgian Malinois who has worked with the Monterey Park Police Department for four months, was stung at least 60 times -- and possibly over 100 times -- by bees while searching for a burglar on Saturday, officials said.
Robin and her handler, Agent Palomino, were assisting patrol officers in locating two people who had committed a residential burglary when the K-9 successfully located and apprehended one person.
While searching for the second burglar, both Robin and Palomino were attacked by a swarm of bees, according to a GoFundMe account that said the dog was stung more than 100 times.
Monterey Park police Chief Jim Smith later said Robin was believed to have been stung 50 to 60 times.
Palomino recovered from his injuries, but Robin went into anaphylactic shock and underwent an emergency blood transfusion. She was said to be in critical condition Tuesday and was beginning to recover Wednesday.
"She's doing a lot better in some regards and in some other aspects she's not doing as well as she was when she first came in," said Dr. Eugenia Nieto with Inland Valley Emergency Pet Clinic. "Overall her demeanor is better, she's up and walking, brighter; but she still has issues with her lungs and her platelet count is quite low."
She was in stable but guarded condition with a low platelet count, the Monterey Park Police Department announced Wednesday afternoon.
Although Robin was recovering, the attack caused her to become extremely lethargic, unable to walk, unable to eat, suffer rapid breathing and turned her urine black, the GoFundMe account stated.
"As depressed and lethargic as she looks now, there is mild improvement from what I've seen," veterinary technician Liam Evans said Tuesday.
Doctors remained optimistic that Robin would recover and possibly return to police work.
"Hopefully she'll continue to improve and we can get her back in the line of duty at some point," Nieto said.
Robin was expected to need several days to a few weeks of treatment, Dr. Jeff Patloger said, and the Monterey Park Police Officer's Association sought to raise $10,000 to aid with her medical bills.
More than $18,000 had been raised as of Wednesday afternoon. The amount exceeds the cost of the dog's care, police said.
[facebook url="https://www.facebook.com/ktla5/posts/10153339151654614"]