This is an archived article and the information in the article may be outdated. Please look at the time stamp on the story to see when it was last updated.
A man and a woman were arrested early Wednesday after the man allegedly taunted Ventura County Sheriff's deputies with a replica firearm in Moorpark.
About 5:40 a.m. a deputy spotted a stopped vehicle near the intersection of Fruitvale Avenue and Broadway Road in an unincorporated area of Moorpark. The driver, Vanessa Gonzalez, told the deputy that her passenger, Dean Aguilar, was having a medical emergency, according to a news release from the Ventura County Sheriff's Office.
The deputy recognized Aguilar as a parolee who he had been in previous contact with. The deputy then called for back up and Aguilar allegedly told the deputy that he had a gun and that he was going to shoot him.
Gonzalez then allegedly drove away, but got stuck on a dirt road about a mile away, officials said.
When more deputies arrived at the scene, Aguilar got out of the car and allegedly told the deputies to shoot him, and Gonzalez pulled Aguilar back into the vehicle.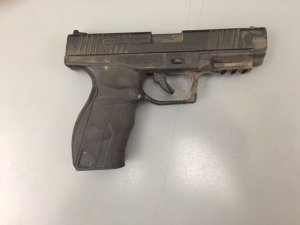 Deputies used pepper spray and a police dog to take Aguilar into custody. He sustained minor dog bite wounds, was taken to a hospital and was eventually cleared.
An investigation revealed that Aguilar had a replica BB gun and may have wanted to commit suicide by cop.
He was booked into jail for an outstanding felony warrant, making criminal threats, brandishing a replica firearm, assault on a police dog and resisting arrest. His bail was set at $60,000.
Gonzalez was arrested on suspicion of possession of a controlled substance and drug paraphernalia and resisting arrest. Her bail was set at $5,000.