This is an archived article and the information in the article may be outdated. Please look at the time stamp on the story to see when it was last updated.
The number of people diagnosed with Legionnaires' disease after spending time in Anaheim or Disneyland increased to 15, Orange County health officials said Wednesday.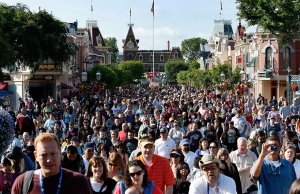 The victims were infected between late August and October, officials said. Two patients have died, though neither of them visited Disneyland.
Legionnaires' disease is a severe lung infection caused by Legionella bacteria that grows in water and can spread when droplets get into the air and people breathe them in.
Last week, Disneyland shut down two cooling towers that were found to have elevated levels of Legionella bacteria. The towers are in a backstage area near the New Orleans Square Train Station, each more than 100 feet from areas accessible to guests, according to Disneyland officials.
Read the full story on LATimes.com.