This is an archived article and the information in the article may be outdated. Please look at the time stamp on the story to see when it was last updated.
This is a developing wildfire story. Please check back for updates.
The Thomas Fire became the fifth largest blaze in California history on Sunday as it scorched over 230,000 acres, or 359 square miles, prompting evacuations in Santa Barbara and Ventura counties, authorities said.
Containment dropped from 15 percent to 10 percent, officials announced Sunday evening.
The blaze has so far destroyed 790 structures, threatening 18,000 more, Cal Fire said. More than 94,600 people have been evacuated or sheltered, and some 5700 personnel have been deployed, according to the agency.
Firefighters headed into a seventh harrowing day of the battle against powerful winds and extremely dry conditions, according to the Ventura County Fire Department.
The blaze was ignited on Monday in Ventura County and only spread to Santa Barbara County overnight Saturday. By Sunday, the fire was contained on its southern border but was continuing to burn to the east, north and west and grew significantly in the Carpinteria area, where it forced new evacuations.
By 12:30 p.m., additional evacuations were being issued in Montecito and residents in eastern parts of Santa Barbara were placed under warnings. Meanwhile, those in unincorporated areas near Santa Paula were allowed to return home. (Find full evacuation information below.)
With the help of the Santa Barbara County Sheriff's Department, officials were able to quickly alert residents and those in new evacuation areas appeared to be safely sheltered, according to Mike Eliason, the public information officer for the Santa Barbara County Fire Department.
"These folks have been anticipating this and it hit just as expected — well, a little sooner than was expected — and the people responded accordingly," he told KTLA.
Several schools in Ventura and Santa Barbara counties will be closed on Monday, officials said. (Find a list of schools below.)
University of California, Santa Barbara announced Sunday afternoon that it's postponing finals week and the winter quarter due to the Thomas Fire, the Daily Nexus reported.
Winds picked up again Sunday and could reach 55 mph after calming down a bit the day before, and a red flag warning would remain in place until 8 p.m., according to the National Weather Service. Humidity was in the single digits, which, combined with a lack of fall precipitation on the area's dry brush, was creating challenges for firefighters.
The flames were expected to spread northeast toward the Sespe Wilderness and the Sespe Condor Sanctuary, firefighters said.
At least one death has been blamed on the fire after a 70-year-old Santa Paula woman was found deceased in her car along evacuation routes on Wednesday.
The first firefighter injury was suffered Sunday when a crew member hurt their leg, Ventura County officials said. The person was transported for treatment but authorities did not disclose their condition.
As of 5 p.m. Sunday, the fire has led to intermittent outages and power surges for Southern California Edison customers in the area, potentially affecting 85,000 customers in Santa Barbara and 4,304 customers in Ventura.
More than 4,400 firefighters were on the fire lines Sunday, including some 700 crew members from 11 different western U.S. states, according to Cal Fire.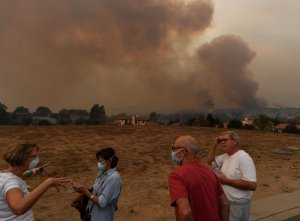 The Thomas Fire remained the most active of the week's six large wildfires, with the Lilac Fire in San Diego County reaching 75 percent containment Sunday and holding at 4,100 acres.
More than 180 structures have been lost in that blaze. Evacuation orders were lifted in the areas between 5200 and 5800 Olive Hill Road, Fallbrook and the Rancho Monserate Country Club, Cal Fire announced Sunday afternoon.
Evacuations were also lifted in all other fires, including the Rye Fire near Santa Clarita, which has burned 6,049 acres and was 93 percent contained; and Creek Fire near Sylmar, which has scorched 15,619 and was 95 percent contained.
The Creek Fire has destroyed more than 120 structures, 60 of them homes, while at least six buildings were lost in the Rye Fire.
As of Sunday afternoon, the Skirball Fire near Bel-Air was 85 percent contained and had been reduced in size to 422 acres due to more accurate mapping, the Los Angeles Fire Department said. The Liberty Fire in Murrieta, meanwhile, was 100 percent contained by Saturday night.
Only the Skirball, Lilac and Thomas fires were being considered active on Sunday, while all except the Liberty had been the day before, the California Office of Emergency Services said.
However, during a Saturday afternoon press conference, Cal Fire Chief Ken Pimlott indicated much remains to be done. "We're far from being out of the woods on any of them," he said.
Overall, the wildfires have destroyed some 830 structures and forced more than 98,000 people to evacuate, according to Cal Fire. On Sunday, about 25,000 homes remained threatened.
Mandatory orders:
Santa Barbara County:
• Montecito: North of East Valley/Hwy 192; south of E. Camino Cielo; east of Buena Vista; west of Ladera Lane; Hot Springs Road to Buena Vista Road between Hwy 192 and East Camino Cielo
• Carpinteria: East of Toro Canyon Road east to Hwy 150, North of Hwy 192 to Camino Cielo, east of the intersection of Casitas Pass Road and Hwy 192, north of Hwy 192, and west of the county line;
• Unincorporated areas: Eastside Hwy 150 from Rincon Hill Road to Highway 101; Bates Road, Camino Carreta, Rincon Pt Road, Rincon Pt Lane and Buena Fortuna
• Mission Canyon Road to Hot Springs Road and Hwy 192 to East Camino Cielo
[googlemaps https://www.google.com/maps/d/embed?mid=1ASoCEnK1yHaI2Of55E92EXF69JdFdIp-&w=640&h=480]
Ventura County:
• Santa Paula: Boundary of Bridge Road north to Thomas Aquinas, Dickenson Ranch Road east to east of Santa Paula Creek
• Ventura: North of Foothill Road from Kimball Road west to Poli Street; north Poli Street from Hall Canyon west to Cedar Street
• Casitas Springs: entire community should evacuate to the Ventura County Fairgrounds at 10 W. Harbor Blvd. in Ventura
• Lake Casitas: north of Hwy 150 heading to Hwy 33 and south of Los Padres National Forest
• East Ojai Valley: Hwy 150 east of Dennison Park to Koenigstein Road, south of Reeves Road
• Ojai: Unincorporated areas west of Rice Road; Los Encinos Road to Burnham Road, south of Hwy 150
• Upper Ojai Valley: Hwy 150 east of Reeves Road, and unincorporated areas west of Rice Road; Hwy 33 north of Fairview Drive- Matilija Canyon
• Unincorporated Ventura County: Residents and day visitors of Rose Valley
• Ventura County North Coast: Boundary of Hwy 33 on the north to Casitas Vista Road, northwest to Hwy 150, Hwy 150 (Casitas Pass Road) west to 101 Freeway and south on 101 Freeway (including Pacific Coast Highway) to Emma Wood State Beach
• Unincorporated Fillmore area: Hall Road to the west, Sespe Creek to the east, Fillmore City limits to the south, and Los Padres National Forest boundary to the north
[googlemaps https://www.google.com/maps/d/embed?mid=1CePU2TdEh86nmBDBfPOAXf8Hp7NlpVpA&w=640&h=480]
Evacuation warnings:
Santa Barbara County:
• San Ysidro Road to Ortega Ridge Road to Toro Canyon Road from the Pacific Ocean to East Valley Road
• San Ysidro Road to the intersection of Padaro Lane and Santa Claus Lane from the Pacific Ocean to the 101 Freeway
• Mission Canyon Road to Cold Springs Road between Alameda Padre Serra and Hwy 192
• Alameda Padre Serra to Hot Springs / El Rancho Road between S. Salinas Street and Hwy 192
• South of Hwy 192 to East Camino Cielo between Mission Canyon and Hwy 154
Ventura County:
• Ojai: Casitas Pass Road east to Highway 33, Spring Street to Loma Drive. (Includes Rice Road east to Loma Drive. Baldwin Road north to Besant Road)
• Unincorporated Fillmore area: Sespe Creek to the west, Burson Ranch to the east, Fillmore City limits to the south, and Los Padres National Forest boundary to the north
Evacuations centers are located at:
• Ventura: Ventura County Fairgrounds at Miners Building at 10 W. Harbor Blvd. in Ventura
• Oxnard: Oxnard College Gymnasium at 4000 S. Rose Ave., Oxnard
• Santa Paula: Santa Paula Community Center at 530 W. Main St., Santa Paula
• Santa Barbara: UCSB Recreational Center at 516 Ocean Road, Santa Barbara
• Small and large animals can be taken to the Ventura County Fairgrounds, and small animals can be housed at the UCSB facility
Residents who need assistance evacuating animals may call 805-681-4332 in Santa Barbara County and 866-387-8911 in Ventura County.
Additional information can be found at CountyofSB.org and ReadyVenturaCounty.org.
SCHOOL CLOSURES 
Ventura County:
• Briggs Elementary: Monday and Tuesday
• Fillmore Unified: Monday
• Mupu Elementary: Monday
• Ojai Unified: Monday through Friday
• Santa Paula Unified: Monday and Tuesday
• VCOE's career education center in Camarillo: Monday and Tuesday
• VCOE-operated school sites and classrooms: Monday and Tuesday
• Ventura Unified: Monday and Tuesday
Santa Barbara County:
• Carpinteria Unified: Monday through Friday
• Montecito Unified: Monday through Friday
• Cold Spring  School: Monday through Friday
• Santa Barbara Unified: Monday through Friday
• Hope Elementary: Monday through Friday
• Goleta Unified: Monday through Friday
• All seven Santa Ynez Valley school districts (Ballard, Buellton, College, Los Olivos, Santa Ynez Valley Union High School, Solvang, Vista del Mar): Monday
• All North County/Santa Maria Valley school districts: (Santa Maria Bonita, Santa Maria Joint Union High School, Orcutt, Guadalupe Union, Blochman Union): Monday
Scott McLean, a public information officer with @CAL_FIRE, shared this preparedness advice firefighters give their own loved ones on the @KTLAMorningNews pic.twitter.com/GhVZ94jCgB

— KTLA (@KTLA) December 9, 2017
#ThomasFire Fire Forecast pic.twitter.com/ostT6ZR0nP

— VCFD PIO (@VCFD_PIO) December 10, 2017