This is an archived article and the information in the article may be outdated. Please look at the time stamp on the story to see when it was last updated.
Southern California was bracing for a second wave of rain on Friday after a late-season storm brought thunderstorms, lightning, hail and even snow to the drought-stricken area the previous night.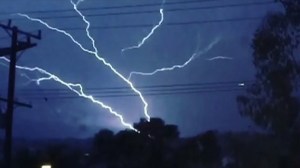 Following a lull in rain overnight, the National Weather Service stated that the second part of the storm system would begin to move across the coast and into southern areas of the region Friday morning.
While showers were forecast to soak much of southern Los Angeles County, isolated thunderstorms capable of producing brief periods of heavy downpours, along with potentially dangerous lightning and small hail, were also possible, the weather service said.
Federal forecasters warned heavy rainfall could cause minor mud and debris flows near recent burn areas, including the Colby Fire area in Glendora.
No mud or debris flows have been reported in the Colby Fire area after heavy cells drenched the city Thursday night, according to the Glendora Police Department.
Still, with another round of precipitation forecast to begin at daybreak, the department cautioned that the area wasn't in the clear yet.
The rain began falling steadily midday Thursday. Heavier downpours reported later triggered flash flooding in West Hollywood, leaving water running one down a stairwell in one building's lobby, video showed.
It also left a portion of Melrose Avenue flooded near Vista Street in the Fairfax District.
By 11 a.m. Friday, the heaviest rainfall totals were seen in the western San Gabriel Mountains, according to the National Weather Service. Opids Camp in the Angeles National Forest above Pasadena got drenched, with 1.86 inches, while Pasadena itself saw 1.04 inches, and downtown L.A. got 0.72 inches.
More than 1 inch of rain fell in some parts of Orange County, including Garden Grove and near Yorba Linda, and areas of Riverside and San Bernardino counties, mostly in foothill areas, according to weather service data.
"For a mid-May storm, the rainfall totals have been pretty impressive," the weather service's Oxnard forecast office wrote on Facebook.
A flash-flood watch was set go in effect in the Friday morning hours for the Santa Ana Mountains and foothills, as well as ranges in Riverside and San Bernardino counties.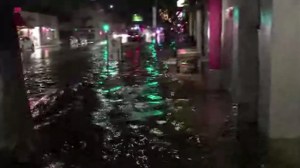 Pea-sized hail was reported in multiple areas, including Brentwood, Chatsworth and West Hollywood.
The wet weather also prompted a rescue from the Los Angeles River in Northridge, where firefighters discovered a man in waist deep water clinging to a piece of concrete.
He was taken to a hospital suffering from possible hypothermia.
In addition to the rain, snow levels were also expected to lower to 5,000 to 6,000 feet, prompting forecasters to warn of winter driving conditions on roadways in higher mountain elevations.
By morning, the Big Bear area was covered in a wintry layer snow. Around 9 a.m., a KTLA camera captured snow at it was beginning to fall again in the region.
Because of the inclement weather and the unsafe race day conditions they produced, Amgen Tour of California organizers relocated Friday's men's and women's time individual time trials to the Santa Clarity area, according to a news release.
The event was originally scheduled to be held at Big Bear Lake.
More video:
[facebook url="https://www.facebook.com/ktla5/posts/10153344818054614"]