This is an archived article and the information in the article may be outdated. Please look at the time stamp on the story to see when it was last updated.
PALMDALE, Calif. (KTLA) — High temperatures and high humidity were forecast for the Antelope Valley on Tuesday, after a week of severe weather blanketed the area.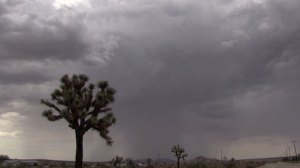 Video captured Monday showed multiple lightning strikes and heavy rain as a monsoon cell moved through El Mirage Lake northwest of Victorville.
"It's crazy. You never know from one day to the next what it's going to be like," Palmdale resident Scott Lake said. "It looks like it's going to pour down rain but then it doesn't it's just hot and humid.
"But I've never seen cloud formations like we get out here," he said. "It's almost extra-terrestrial. It's like there's UFOs up there. … It's like [the clouds] are coming from the ground up to the sky. It's just weird. It's odd and kind of scary."
Meanwhile, in Forest Falls, a cleanup operation continued after heavy rains resulted in flooding and mudslides late last week.
No injuries were reported in the San Bernardino mountain community, although several vehicles were damaged by displaced earth and boulders.
A 20 percent chance of thunderstorms was forecast Tuesday for the Antelope Valley.